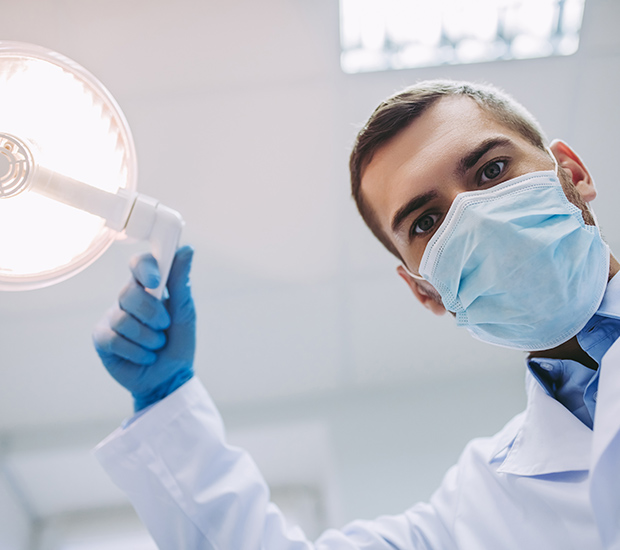 Why Choose an Endodontist
Rock Hill, SC
Reason 1: Experience
On average, endodontists perform nearly 25 root canal treatments a week, while general dentists perform less than two.
Reason 2: Efficiency
Because they limit their practice solely to endodontic treatment, endodontists are efficient and precise. This equates to positive experiences and faster healing.
Reason 3: Availability
Most endodontists offer tremendous flexibility in accommodating emergency cases, so delays in treatment are kept to a minimum and patients can be relieved of dental pain quickly.
Reason 4: Advanced Technology
Many endodontists use state-of-the-art technology such as operating microscopes, digital imaging, ultrasonic instrumentation and fiber optics, to treat their patients quickly and comfortably.
Today, getting root canal treatment is often no more uncomfortable than having a filling.
Why Choose Our Practice?

When it comes to picking an endodontist, we know that you have options. Personalized, gentle, comprehensive patient care is our number one priority.
Here are just a few things that make our practice unique:
Care and Commitment
From the front office to the exam room, our practice is made up of professionals who take your oral health very seriously. The office is designed to make you feel comfortable and relaxed. Using state-of-the-art equipment designed with safety and efficiency in mind, we are able to offer top-notch care. As you walk through our office, you will notice that everything is clean, comfortable and thoroughly sterilized. Your safety and comfort are our priority and we place close attention to detail of your needs and the referring dentist request.
Honesty and Affordability
We know that the cost of care can be confusing. In addition to offering a number of in-office payment options to fit your budget, we also give you up-front cost information on your treatment ahead of time. We are in network with a variety of insurance plans, and we offer various forms of dental financing with credit available in time frames that fit your needs. We are happy to help you navigate your dental insurance and alternative payment options.
Easy Access to Endodontic Care and Information
We know that your time is valuable to you, and that's why we offer extended office hours on select days, dental appointment reminders, and a quick turnaround time on calls and appointment requests. We are happy to answer any questions or concerns in the office, over the phone or via email.
Comprehensive Endodontic and dental Care in One Location
At Tranquility Dental Spa, we are qualified to handle all aspects of your care, so you are always surrounded by people that you trust. If we must refer out, we promise to send you to carefully vetted colleagues who apply the same professional principles in their office that we do in ours.
Comfort
We respect and understand that many patients experience dental anxiety. At our office, we do everything we can to make sure that your experience is as enjoyable as possible. By creating a relaxed environment, educating and communicating clearly what you can expect during your treatment, we are often able to alleviate dental fear. We encourage you to bring headphones and music to listen to during your treatment and ask us about dental sedation options.
Personalized Service
At our practice, you aren't just a patient. We take an interest in you and your oral health needs. We think you'll find a friend in your dental professional during your visit!
Give us a call today at Tranquility Dental Spa Phone Number 980-316-7109!
You'll be happy you chose us for your endodontic needs!
Endodontic FAQ
What is endodontics?
Endodontics is a branch of dentistry recognized by the American Dental Association involving treatment of the pulp (root canal) and surrounding tissues of the tooth. When you look at your tooth in the mirror, what you see is the crown. The rest of the tooth, the portion hidden beneath the gum line, is called the root. Though the outer portion of the root is a hard tissue called dentin, the inside channel or "root canal" contains a pulp of soft tissue, blood vessels and nerves. Bacteria that are introduced into the pulp as a result of tooth decay, periodontal disease tooth fracture or other problems, can severely damage the pulp. When that happens, an endodontic specialist, such as Dr. Feimster, removes the diseased pulp to save the tooth and prevent further infection and inflammation. After successful endodontic treatment, the tooth continues to perform normally.
I'm worried about x-rays. Should I be?
No. While x-rays will be necessary during your endodontic treatment, we use an advanced non-film computerized system, called digital radiography, that produces radiation levels up to 90 percent lower than those of already low dose conventional dental x-ray machinery. These digital images can be optimized, archived, printed and sent to cotherapists via e-mail or CD-ROM. For more information contact Sirona Dental Systems, Inc.
What about infection?
Again, there's no need for concern. We adhere to the most rigorous standards of infection control advocated by OSHA, the Centers for Disease Control and the American Dental Association. We utilize autoclave sterilization and barrier techniques to eliminate any risk of infection.
What happens after root canal treatment?
When your root canal therapy has been completed, a record of your treatment will be sent to your restorative dentist. You should contact his office for a follow-up restoration within a few weeks of completion at our office. Your restorative dentist will decide on what type of restoration is necessary to protect your tooth. It is rare for endodontic patients to experience complications after routine endodontic treatment or microsurgery. If a problem does occur, however, we are available at all times to respond.
What new technologies are being used?
Operating Microscopes:
In addition to digital radiography, we utilize special operating microscopes. Magnification and fiber optic illumination are helpful in aiding the doctor to see tiny details inside your tooth. Also, a tiny video camera on the operating microscope can record images of your tooth to further document the doctor's findings.